Shapes and types of Skirts
A-Line Skirt
As the name suggests, the shape of the skirt roughly resembles the letter A – fitting at the waist, taking the shape of your hips and thighs and then flaring at the hem. Some of the variations are: Godet skirt, Gypsy skirt and Paneled skirt.
Godet skirt
A-line skirts which have triangular pieces of fabrics inserted from the main body of the skirt to the hem are godet skirts. The godets are inserted to have more volume at the hem, so that the hem sways when the wearer walks. Godet skirts have a slimming look to them as they take to tend away the attention from the waist and hips to the hem.
Gypsy skirt
A-line, ankle length skirts which have tiers with or without ruffles are Gypsy skirts. The horizontal panels of a gypsy skirt could be attached by simply sewing them or by having lace insets. Gypsy skirts may be elasticated and normally also have ties. Some gypsy skirts are also crinkled. Pear shaped women should avoid crinkle skirts and skirts with too much horizontal detailing on the hip area as the same tends to accentuate the hips.
Paneled skirts
A-line skirts which have vertical panels of fabric (self or some other fabric) stitched from the waist to the hem are called paneled skirts. These have a slimming effect on the wearer and can hence be worn by the curvier lot.
An A line skirt could be knee length or below. Since it accentuates the hips, women with curves love this shape. Simple A line skirts or skirts with vertical detailing panels work the best for the pear shaped women. An A line knee or ankle length skirt, which is not too heavily detailed could be worn on a casual Friday to the office as well.
Straight skirts
Straight skirts are skirts that are the same width from the waist area to the hem. Good for both formal and casual occasions, these come in varying lengths – ankle/mid calf and knee.  These normally have slits either at the back, sides or front for ease of movement of the wearer.
The fabric decides if the skirt should be worn on a formal occasion or casual. For formal occasions normally satins or fabrics which take the shape of your body are preferred. For more casual outings you could choose heavier weight cottons, denims or even leather. This shape flatters almost all body types. Well toned legs are guaranteed to be noticed if you wear a knee length straight skirt. Straight skirts which have a high defining waist suit people with thin frames who want to show off their thin waists. This skirt is also forgiving to people who have a generous middle, especially if the skirt is long, as the length takes away the attention from the width.
Pencil & tube skirts
Pencil & Tube skirts are fitted from the waist to the knee. Pencil skirts are knee length whereas; tube skirts are normally calf or ankle length. Normally with a slit at the back, these are meant to be worn by slim people with an hourglass, no-flaws figure, as the skirt shape is not at all forgiving.
 Quiet a staple in boardrooms, these are considered to be very stylish and non fussy and hence a popular choice for formal occasions. These are normally teamed with jackets or formal shirts/tops and formal footwear. Belts highlighting the waist are a wonderful accessory for these skirts.
Mini skirt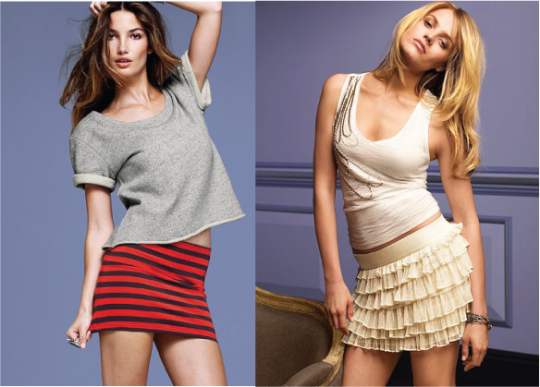 Extremely stylish and a wardrobe basic, these skirts have held the fascination of men and fashion divas alike. These are small or 'mini' in length, hence the name, reaching just about mid thigh. I am sure all of us would have in some point had a denim miniskirt with patch pockets at the back and small side slits. Miniskirts could come in a variety of fabrics, however normally are made in thick fabric to give extra strength. These could be straight or flared at the hem and are most suited for a casual outing to a pub or nightclub with your girl friends or that special someone. Flared A-line miniskirts, because of a little more room at the hem, could be made in lighter fabrics too, normally with an inner lining. To add an element of playfulness, A line miniskirts could have multiple layers of frills. These are known as ra-ra skirts. Another popular feature found in the A line miniskirts is a cut-work lace/printed fabric in the form of a frill / net attached at the hem.
Minis can suit short or tall thin women. Due to their short length, they give an impression of length to the wearer. Needless to say, since they show off so much of legs, they are the best bet for any woman looking to show off her well toned long legs! They are also perhaps the only skirts with which you could team flats, boots or heels and manage to carry off the look in all three. You could also team these with colorful leggings during the colder months.