Gigi Hadid appeared on The Tonight Show starring Jimmy Fallon wearing Alexandre Vauthier Spring 2023 Couture Look 11 (Not available online), Anabela Chan Diamond Nova Earrings (£1,990.00), Hab El Hayl Ring ($612.00) and Hab El Hayl Diamond Ring ($1,330.00) both by Al Zain, and Stuart Weitzman Stretch 100 Boots ($595.00).
Gigi Hadid  made an appearance on The Tonight Show Starring Jimmy Fallon, which aired on Monday, February 27
 Gigi wore a  Alexandre Vauthier Spring 2023 Couture outfit consisting of skin-tight dark green leather pants, heeled boots, and a matching dark green belted, hooded jacket, which again, clung to Gigi's figure so expertly. If we didn't know any better, we would guess that the outfit was made *just* for her!
Gigi  completed her outfit with  Anabela Chan earrings,  along with a Lionheart 14K gold and diamond gypsy band ring, and two intricate Al Zain rings.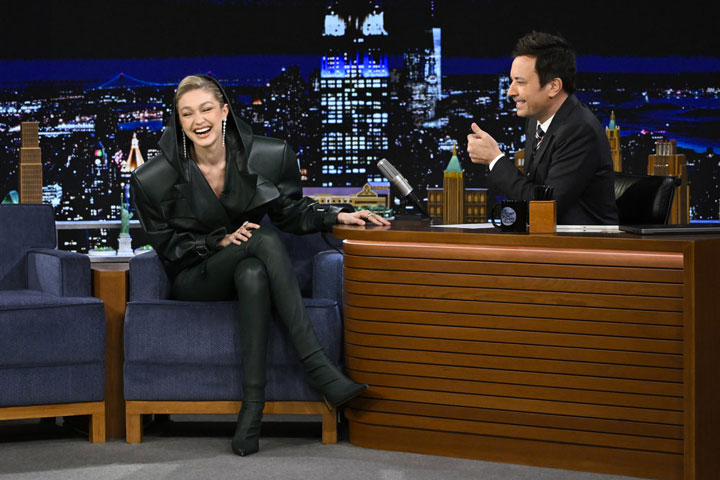 Todd Owyoung/NBC
Gigi Hadid Talks About Her 'Vogue Netherlands' Cover And 'Queer Eye' Obsession
Gigi and Jimmy discussed a lot of things during her interview, such as her Vogue Netherlands March cover, which is the latest in over 35 covers she has shot for the fashion bible throughout her career. And we bet there will be more where they came from! "It's crazy," Gigi said, when Jimmy mentioned how many times she has covered the pub!
"It's obviously an honor and amazing but I don't know how that went by so fast," she confessed. "It's like, I remember each one like, such a vivid memory of the day, with so many people that are involved and work so hard to create each photo so it's amazing that it's been that many."
"My mom's Dutch so I was really excited to do this cover," she continued. "I did it with one of my best friends, Alana O'Herlihy, and we got to really creative direct this shoot and have a lot of fun with it." Jimmy then went on to ask her about the stickers on her face for one of the covers, to which Gigi answered: "So these stickers are actually from a Dutch amusement park called the Efteling, and it's a beautiful kind of quaint amusement park in a forest with all these fairy tales; and these stickers were flown from Holland for this shoot." She added: "It's a really special place to me and I kind of wanted to nod to all those memories."